Scaffold is a common solution for access needs and reaching elevated areas on construction, mining and industrial sites. However, the process of setting up and breaking down the scaffold is inefficient and quite unsafe. It can also be inconvenient in terms of production as specialised contractors or qualified employees are required for the installation and removal process.
When working at height, scaffold provides inferior security and protection to those occupying the area. Bend-tech has a range of fully certified access platforms that a compliant with Australian Standards for a variety of situations, permanent or mobile. Our platforms provide greater safety and efficiency in all situations, increasing peace of mind and productivity on-site.
The problems with scaffold
Australian and New Zealand standards require a licensed rigger to legally erect scaffold. The rigger is responsible for the assembly and installation of rigging gear such as ropes, pulleys and winches to lift and lower position equipment. The appeal of scaffold is often its temporary nature; however, scaffold is a system that is simply less secure with far less structural integrity. A single site may need numerous scaffold to be set up and taken down, requiring extensive time and man-power, reducing productivity and efficiency.
Fully certified access solutions
Bend-tech's design, engineering and construction processes ensure that our platforms are fully certified and compliant with Australian standards. All designs are engineered, manufactured and tested to ensure they will exceed your onsite requirements under all heat, stress and load specifications.
Bend-tech platforms reduce risks and provide users with the safest environment possible. Counter weighted if the design or application requires, our platforms are designed to solve all your on-site access requirements.
Certification plates identify the products compliance and tested quality and performance specifications. All Bend-tech products go through and pass this external testing process.
Permanent or mobile access platforms
Bend-techs access platforms have been designed with safety at the forefront. Our permanent, secure platforms provide the same access capabilities as scaffold with the ability to be moved upon job completion without the breakdown requirements.
Our mobile platforms are designed with heavy duty wheels to allow for quick transport around a machine or site. This feature drastically improves setup and access times, increasing on the job productivity.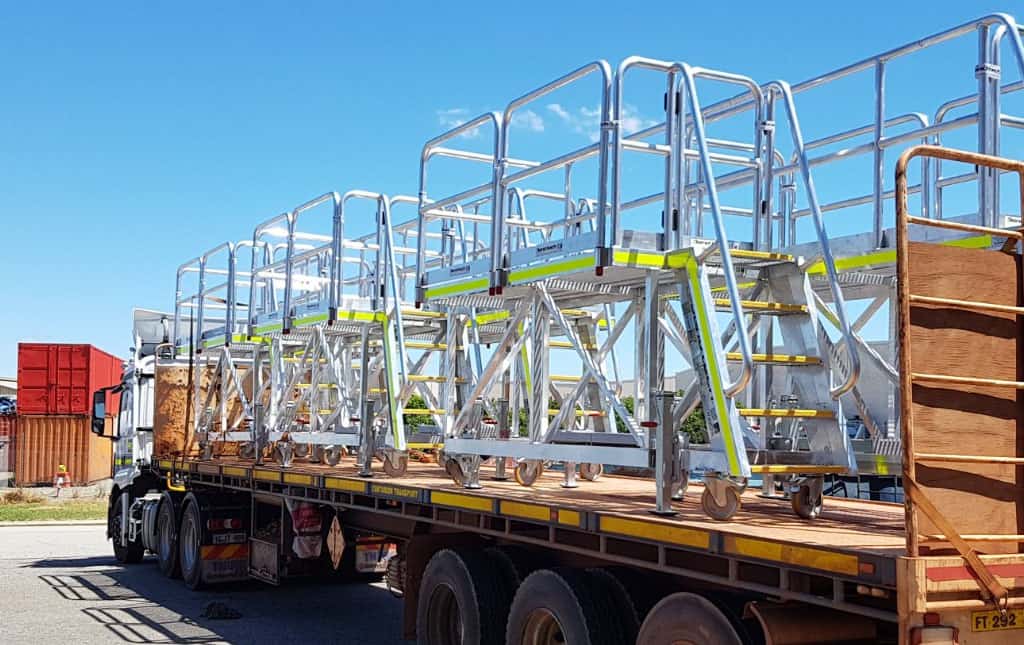 Custom scaffold replacement designs
Our platforms are available to suit a range of applications. Many of them standard, often however, a site requires a unique custom access solution. Bend-tech provides an approach that enables for fully custom designed, engineered and constructed access platforms. One of our consultants can come to site, measure up your requirements and then have our skilled team develop your certified access solution.
If you would like some more information regarding our range of access equipment or would like to have a chat about a custom solution, get in contact with us today or complete our General Enquiry Form below. We look forward to hearing from you!